Back In Action
By: Chris Nolot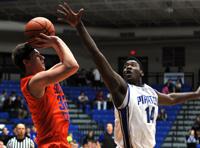 Silver Creek's basketball team has high expectations this year. Coming off of a sectional winning season last year, Coach Hoffman said, "My goal for the team this year is to make it to state and win. The obstacle we will face this year is the difficult schedule and the team will have to pull together to overcome that. The biggest strengths we have are our depth and weapons from the starting five through the entire bench. There are guys who step up and give us good minutes." From last year's sectional winning season there are four starters that have returned including Seniors Gabe Bauer, Nick Tinsley, Jake Steele, and Junior Christian Reed.
The rest of the Varsity cast, seniors Sam Garr and Cameron Cook look to make a name for themselves in the starting five, along with the new addition to the squad Evan Simmons (with the ball).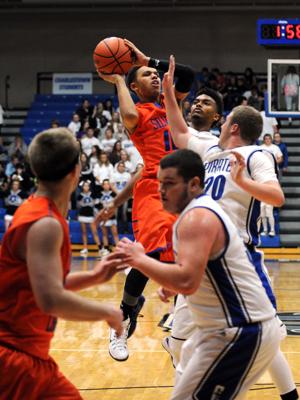 Silver Creek defeats Charlestown 1Junior's Zach Densford, Ryan Baker,Alex Long, and Conner King, and sophomore Cameron Stephens round out the varsity roster. With the variety of weapons these players bring to the table we will be a tough team to beat throughout this 2014-2015 season and will make a run at state.
Silver Creek Drumline: Unbreakable
by Jake Mckinley

Silver Creek Percussion Theatre's tryouts have been finalized, and the group will now begin writing, learning, and performing their 2015 show entitled "Unbreakable." Silver Creek's new age twist on the classic tale of Romeo & Juliet, with a surprise ending and music written and composed by Silver Creek seniors Ashleigh Smith and Jake McKinley, and Silver Creek junior Josh Waters. Rehearsals will remain closed, unlike in years past, and the group will go through the Tri-States circuit. Main actress Lindsay Guelda
​will play the role of Juliet. Stay tuned for subsequent performances!
---
National Honor Society Induction
by Sam Lay
The National Honor Society
is a group that recognizes terrific students for the effort they have given towards academics.
They recognize students that excel in scholarship, leadership, service, and character. The National Honor Society had their annual induction ceremony to induct the incoming Junior class. The ceremony had Julia
Gillenwater start by talking
about what the National Honor
Society is and what it stands for. Then Tyler Kindel and Sarah Shelton talked about the importance of the club. The students have a chance at getting some of the scholarships given out by The National Honor Society.
Principal Michael Crabtree had the honor of inducting each of the new National Honor Society members.

Silver Creek High School
557 Renz Avenue
Sellersburg, IN 47172
Phone: (812)246-3391
Fax:(812)246-8184
Principal: Mike Crabtree
Asst. Principal and Athletic Director: Larry Richmer
Asst. Principal: Amy Gilbert
Counselors:
Mark Rieger
Vicki Stoffregen
Amy Compton
---
Jan. 23 - 25
State Thespian Conference
Sat, Jan. 24
SAT Test Date
Thurs, Jan. 29
Boys Swimming & Diving MSC Meet
Sat. Jan. 31
Piano/Vocal Solo & Ensemble Contest at Floyd Central
Thurs, Feb. 5
Girls' Swimming & Diving Sectional
Sat, Feb. 7
Band solo & Ensemble Contest - Scottsburg H.S.
Freshmen Boys Basketball Tourney - Silver Creek - 9:00am
Girls' Swimming & Diving Sectional
---

Click to buy a yearbook